Attic
What have I found in my attic?
The attic is my vault where I have stored, over the years, many treasures related to my passion, that could be paintings, prints, books, ancient tools … And today I have decided to let you have a look at some of them and maybe you will be the next owner of one or more of these treasures of antiquity.
Paua Collage

This framed work contains marbling, solarprints, metallic thread, handmade paper, paua shell fragments, and letterpress printing.
By Allison and John Brebner of Homeprint.
Price : $120
The Headland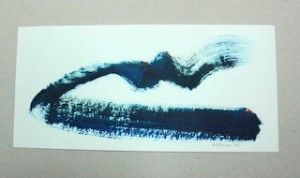 Acrylic painting on card by John Brebner
Size : 210mm x 100mm
1995
Series available
Price : $20
Purple Sky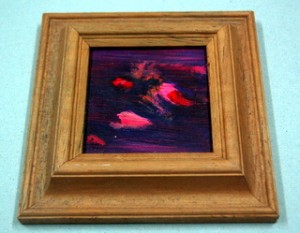 Framed acrylic painting.
By John Brebner
Size : ext 170mm x 170mm  / int : 85mm x 85mm
1993
Price : $50
Eye in the sky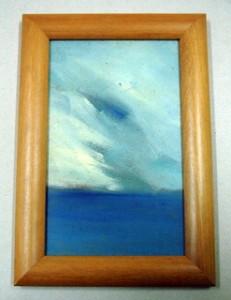 Framed acrylic painting
By John Brebner
Size : ext 180mm x 265mm  / int : 125mm x 210mm
1982
Price : $50
The Old Woman
Story for children. One of our first handmade books. Handset and handfed by               Allison and John Brebner.
Size : 210mm x 160mm, 12 pages
Published at Homeprint, 1978
Limited edition 33/100
Price : $10
 MEDICOLOGY – 10 illustrated books in one volume
Home encyclopedia of health, a complete family guide.  Compilation of 10 books in one volume by Joseph G. Richardson, M.D., William H. Ford, A.M., M.D., C.C. Vanderbeck, M.D., ph.D.
Managing Editor : James P. Wood, M.D. assisted by a large and able corps of medical practitionners, lecturers and teachers.
Size : 195mm x 260mm x 120mm – 1436 pages – 4.250kg
Illustrated with coloured an monotone plates
1907 edition. University medical society – NY, Philadelphia, London
Price : $50
DR. CHASE's Third, Last and Complete Receipt Book
Dr CHASE's Third, Last and Complete Receipt Book and Household Physician, or     Practical Knowledge for the people, from the life long observations of the Author, Embracing the Choicest, Most valuable and Every Department of Medicine, Mechanics, and Household Economy; including a treatise on the diseases of women and children, in fact a book for millions, with remarks and explanations which adapt it to the every-day wants of the people. Arranged in departments and most copiously indexed.
By A.W. Chase, M.D.
Malcolm and Grigg Dunedin, NZ and Sydney, Australia and F.B. Dickerson & co., Detroit, Mich. U.S.A.
Size : 160mm x 215mm x 60mm, 865 pages.
Memorial edition, 1887
Price : $30
Gems from Shelley & Gems from Keats
Two lovely antique and romantic books containing short stories and love poems.
Size : 100mm x 70mm, 90 pages
London and Glasgow Colin's Clear-Type Press
Price : $10 each
---
Please contact John to discuss further or place an order (direct debit or online banking)
Email homeprint@gmail.com or call studio + 64 6 323 8046 , cottage +64 6 323 8120 , fax +64 6 323 8062 , cellphone +64 274 506 826
Homeprint 11 Sandiland Street Feilding New Zealand